Ocean Solitaire is a stunning card game with an ocean theme. Your mission is to put all cards into four foundation piles to get the highest possible score.
This game is played with a standard deck of 52 cards without Joker. The layout of the deck includes 3 parts. They are the Tableau in the centre, the Foundation on the top right and the Stockpile on the top left. All you have to do is to move all exposed cards on the tableau to four foundation piles. Each foundation pile must be stacked in ascending sequence from Aces to Kings and in a suit. Besides, the tableau pile can be reorganized in the descending order and in alternating colours. if there is an empty space on the tableau, you can place a King or a group starting with a King on it. If there is no more possible move, you can draw a card in the stockpile. The game offers the Hint button and the Undo button. The Hint button will give you suggestions about the possible next moves. The Undo button is used to reverse your last move. You can use them unlimited times. Try your best to clear all cards on the tableau to get a victory and get the highest possible score.
The game features a beautiful ocean background and card set, which brings you a wonderful playing experience. Click to play it now to get an opportunity to explore pretty coral reefs under the ocean.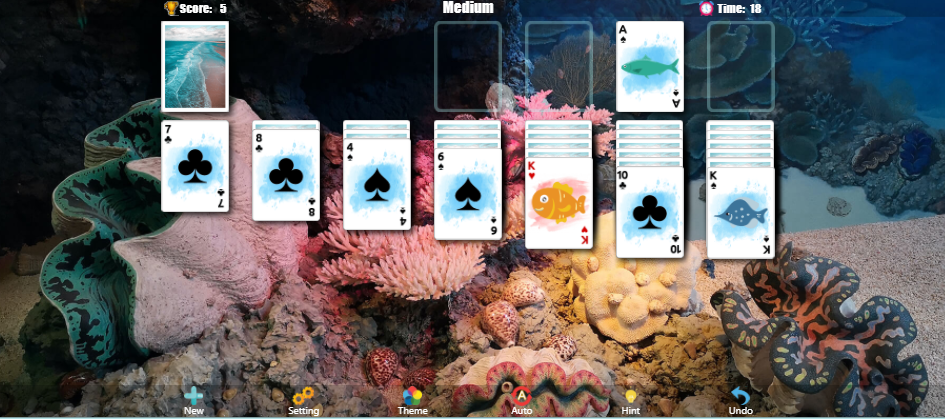 Strategies to win Ocean Solitaire:
Try to create empty space on the tableau as early as possible

Go through the stockpile as many times as possible

Attempt to expose all hidden cards on the tableau.