Cats Solitaire is a pretty card game. Your objective is to place all cards on four foundation piles. Each pile must be arranged in ascending order and a suit.
This game is played with a standard 52-card deck. The layout of this deck includes 3 parts which are the Tableau, the Stockpile, and the Foundation. Your mission is to move all cards on the tableau to four foundations. Each foundation pile must be built up by suit from Aces to Kings. Besides, the cards on the tableau can be rearranged in descending sequence and in alternating colours. Keep in mind that only face-up cards are available for gameplay. An empty space on the tableau is filled with a King or a stack of cards starting with a King. If there is no more playable card on the tableau, you can draw a card in the stockpile. Whenever you get stuck, click the Hint button to get suggestions about the next move. The Undo button is sued to reverse your last move. Note that you are not limited to undo. Therefore, you can undo your move as many times as you like.
Featuring a cute cat theme, card set and background, this interesting solitaire game will bring you an interesting playing experience. In addition, the cards will dance merrily after you get a victory.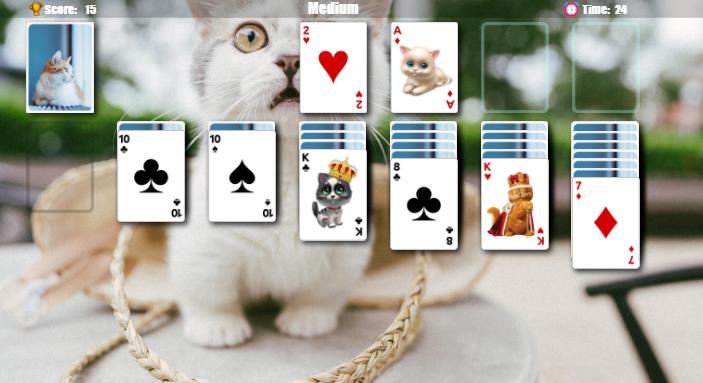 Six levels from Easy to Grandmaster are available for gameplay in this game. If you are a beginner, try an Easy level. If you are a master, choose Master and Grandmaster to challenge yourself with an insurmountable degree of difficulty.
Features of Cats Solitaire:
6 levels including Easy, Medium, Hard, Expert, Master, and Grandmaster

No time limit

Simple control

Pretty cat theme and card set